About Briggs MFG, Inc.
BRIGGS MFG. Established in 1982.
Incorporated in 2014 as BRIGGS MFG, INC.
Location: Willows, CA
Service
BRIGGS MFG, INC is a concrete manufacturing company specializing in irrigation and drainage systems. We are located in Northern California and have been servicing the agricultural and wetlands communities since 1982. The products and services we offer, as well as our professional, friendly, and knowledgeable staff, is unmatched by our competitors. We're the company farmers, businesses and duck clubs and water districts trust most because we're fast and reliable. Our team works hard to offer customers the highest quality products and services at reasonable cost. Our catalog, which includes water control structures, water trough, septic tanks, k-rails, and solar ballast, continues to expand due to the trust we've gained with our customers who challenge us to create what they need successfully. No matter how big or small, we can modify or fabricate anything according to your needs. We also carry canal gates, pipes, couplers, and grates. Our services also include re-purposing dated canal gates, delivery, and we can ship anywhere in the U.S.
History
Since the 1980s, wetland management and restoration has undergone drastic changes. Wetlands constructed before the 2000s have been redeveloped with stronger consideration for water conservation and mosquito mitigation for public health. Today there is greater emphasis on managing and measuring water flow to prevent disease and to protect wildlife. Redwood boxes were used in the rice field contours until redwood became extremely expensive due to concerns about the endangered spotted owl. Concrete became much more cost effective and conservation conscious. The steel structure line of products has been replaced with pre-cast concrete solutions that have saved our customers many thousands of dollars. Unlike steel and wood, concrete doesn't rust, burn or float away.
New challenges are on the horizon for water control structure design and maintenance. Precast products are the way of the future. Measuring volume and flow are now mandatory in California and other states. We have the expertise to incorporate new flow measurement requirements for existing agriculture and wetland inlets and turnouts and create new systems that will last for decades.
A message from our founder, Peter Briggs
My grandmother taught me to treat people the way I want to be treated; I feel that this philosophy is a key to my business's success. With a solid background in fabrication, I began building steel water structures as a hobby. This hobby quickly turned into a thriving business. I started with one product - steel flashboard risers and with that ignited a passion in me and I began getting more creative in my endeavors. I began manufacturing with steel and it has since evolved into concrete. Today, we are able to offer a vast range of products and services. I strongly believe the success of our story is due to the continued involvement we have with our customers. With the advice given to me early on, our focus is making sure we're meeting our customer's need. We work with them to provide practical solutions for their every needs, as well as keeping things simple and cost effective – the expectation I would want for myself. At Briggs MFG, it is our priority in providing exceptional quality service and building trust you can depend on.
I would like to thank our customers, current and future, for their trust and their continue support for over 35 years. I would especially like to thank our employees for their hard work and dedication. Our staff boast that they have worked for a single company for more than 17 years. Our company has grown significantly over the years and it wouldn't have been possible without the team we built here at Briggs MFG, INC.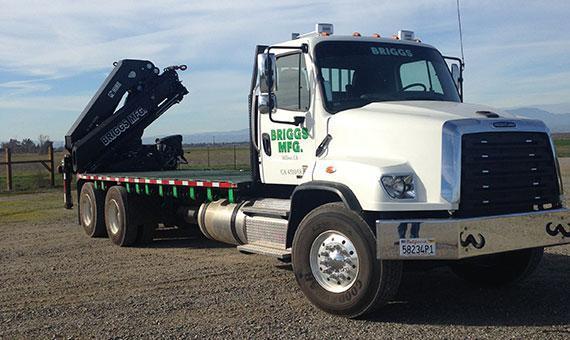 Product Categories
Browse Products
---
Located in Willows, CA
Get our contact information, our location, or send us a message!
Contact Us